GNFAC Staff Forecasters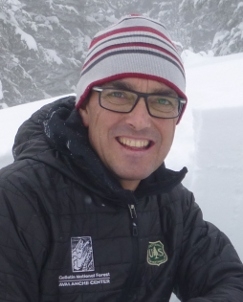 Doug, director of the Gallatin National Forest Avalanche Center, received his B.A. in Outdoor Education from Prescott College in 1986. From 1990 to 1999 he worked as a professional ski patroller at Bridger Bowl Ski Area in Bozeman, Montana. Starting in 1995 Doug has worked for the GNFAC as an avalanche specialist. He's also a mountain guide and climber. Doug has been on numerous climbing expeditions to Alaska, Nepal, India, Afghanistan, Tajikistan and Pakistan, resulting in many first ascents and new routes. In 2011, Doug co-founded Iqra Fund, a nonprofit doing education work for girls in northern Pakistan (www.iqrafund.org).
Alex joined the GNFAC forecasting team the winter of 2015-16. Alex worked for the Friends of the Avalanche Center as an avalanche educator for the previous five years with the last two as Education Coordinator. He also ski patrolled at Bridger Bowl for those five winters. Alex earned his masters degree in snow science from MSU in 2014. The focus of his Master's thesis was forecasting deep slab avalanches on persistent weak layers http://scholarworks.montana.edu/xmlui/handle/1/8786. Alex grew up skiing and navigating the mountains of Colorado and has skied off mountaintops throughout the intermountain west, Sierra Nevada, Chugach, and Canadian Rockies.
Ian started with the GNFAC in the 2018-19 season after cutting his teeth forecasting at the Colorado Avalanche Information Center where he spent three seasons as a backcountry forecaster based in Leadville. Prior to his time at the CAIC, he earned his MS from Montana State University with a focus on snow science. His other avalanche experience includes a season interning with the GNFAC, Ski Patrolling at the Yellowstone Club and teaching a range of avalanche courses.
Dave joined the GNFAC team in fall of 2019. He graduated with a B.A. from the University of Oregon in 2006 and has ten years of ski patrol experience. He worked with the Yellowstone Club Ski Patrol from 2009 – 2016 and with the Bridger Bowl Ski Patrol from 2016 – 2019. Dave took over the education program for the Friends of the Gallatin National Forest Avalanche Center in 2016. In addition to his work with local ski patrols and the Friends group, he has developed the Montana State University Snow and Avalanche Workshop in Bozeman, MT in conjunction with several MSU professors. In his time away from the snow, Dave is a wilderness medicine educator and river guide, having coached whitewater kayaking and taught high school in the United States, Canada, Mexico, Chile, Argentina, Zambia, Uganda, and China. He now runs youth whitewater kayaking programs in Southwest Montana for Wave Train Kayak Team. It is bittersweet for him to transition away from ski patrolling, but he is excited to stretch his thinking about the avalanche problem in new ways and to develop as an avalanche professional.